Energy bars are a terrific option for athletes – or anyone – looking for a quick source of protein, complex carbohydrates, and vitamins & minerals. Conveniently packaged and easy to throw in a gym or golf bag – or briefcase, for that matter – they're a quick source of energy for athletes, students, or harried, on-the-go executives. Homemade energy bars offer all these benefits plus will save you money, and they are surprisingly easy to make!!
Before we get to the actual recipe, a few general comments on energy bars:
Most commercially available energy bars – Clif Bars, Power Bars, and the like – cost around a dollar each. Our local Wal-Mart sells Clif Bars for $.89 each, and based on my experience, that's a really good price. If you make your own you'll not only enjoy great tasting bars & know exactly what went into them, you'll enjoy substantial savings versus these prices!
Most energy bars contain around 220 calories. If you maintain an active lifestyle or are an athlete, eating an energy bar is perfectly fine because you need to maintain your caloric intake given your high level of physical activity.
For anyone who is less active, energy bars are a good option especially if the alternative is junk food, a candy bar, or the fatty, cholesterol-laden hot breakfast buffet at your hotel. Just bear in mind that the calories will add up if you eat several per day!  I'll provide a concise nutritional breakdown for the bars you can make yourself in just a moment.
That disclaimer issued, let's look at how you can create tasty energy bars with little effort and less than 45 minutes.

Ingredients
3-1/2 cups rolled oats
3/4 cup light syrup (

or try one of these healthier alternatives:Â  agave nectar, maple syrup, or honey

)
2 scoops (each scoop is about 4 tbsp.) protein powder – I used vanilla flavored; any flavor will work
1-1/2 cups nonfat dry milk
1 tbsp cinnamon
2 egg whites
1/4 cup juice – I use orange/banana/pineapple juice; orange juice is fine
1/2 tsp. vanilla extract
1 cup chopped dates (you can use dried cranberries, raisins, and chopped nuts, if you prefer)
1-1/2 bananas, mashed
Here's a photo of the ingredients I typically use:
Other
cookie sheets
non-stick spray (see video below)
large mixing bowl
Extremely complicated directions:
Thoroughly mix all dry ingredients in a large bowl
Mix all wet ingredients in another bowl
Add the wet stuff to the dry stuff and mix together thoroughly
Put spoonfuls on a cookie sheet that you've sprayed with non-stick spray, and form into bars (I use a plain table knife for doing this.)Â  Spreading the spoonfuls out a bit as you put them on the paper makes this much easier.
5.31.09 edit:Â  surely one of the more bizarre videos ever put on YouTube, here's a 1:18 video of how I form the bars; note that I am baking them on cookie sheets which have been sprayed with non-stick spray:
Bake at 325°F for approximately 15 minutes or

until the bottoms of your bars are golden brown
When they're done, take them out of the oven and let them cool.  (NOTE:  the bars will be a bit soft when you remove them from the oven; when they cool they'll firm up.)
Here's a picture of the bars before going into the oven (these pics were taken before I switched from waxed paper to non-stick spray; both techniques work just fine but the spray is a bit easier):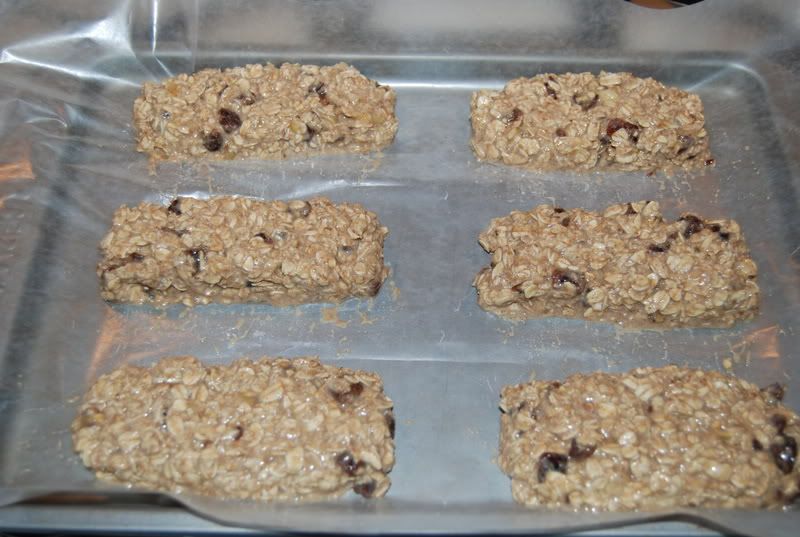 …and after: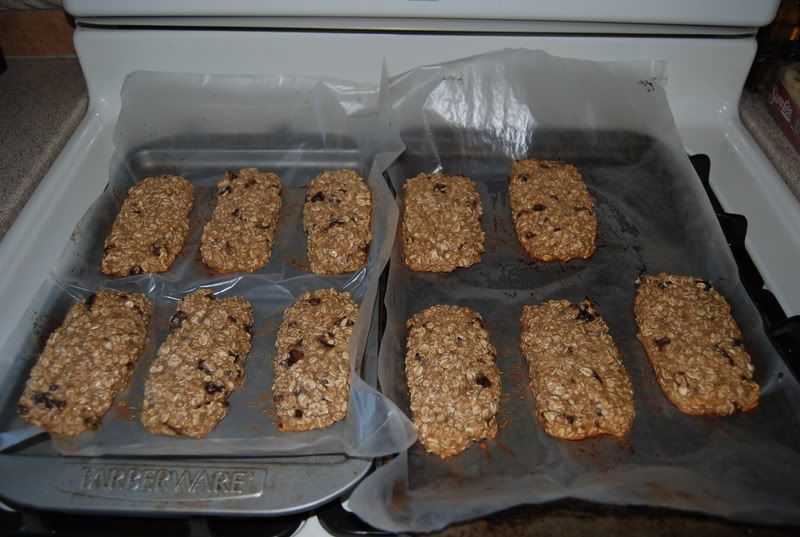 As you can see, this recipe made 11 fairly large bars. I certainly could have opted to make them smaller. Total cost per bar (I'll spare you the detailed calculations) works out to about $ .66 each, primarily because I used a relatively small (read: expensive per scoop) container of protein powder. If I were to buy a 5 lb. container, the cost per bar drops to about $ .45 – half the cost of the best price I've seen for Clif bars!
Nutritional Breakdown:
280 calories
total fat: 1.9g
saturated fat: .5g
cholesterol: 10.2mg
protein: 13g
carbohydrates: 53.2g
Note that this is approximate as the size of the bars can (obviously) vary a bit, and is based on the recipe yielding only 12 bars. At that yield, the bars are akin to a supersized Clif bar.
How does this nutritional profile compare to commercially available energy bars?
| | | | | | |
| --- | --- | --- | --- | --- | --- |
| | Homemade | Clif Bar | Power Bar | Gatorade Bar | 4 Fig Newtons |
| Calories | 280 | 240 | 230 | 260 | 220 |
| Protein | 13g | 10g | 10g | 8g | 2g |
| Carbohydrates | 53g | 44g | 45g | 46g | 44g |
As you can see, the homemade bars compare very favorably to the commercially available alternatives… and they taste great and are less expensive! Also, keep in mind that these bars are considerably larger than the store bought bars, so it's a bit of an apples and oranges comparison… keep reading for a more relevant comparison.
If the recipe yielded 16 bars, the nutritional breakdown is:
210 calories
total fat: 1.4g
saturated fat: .3g
cholesterol: 7.6mg
protein: 9.7g
carbohydrates: 40g
This is certainly a fairer comparison. At this (16 per batch) yield, the homemade bars offer lower calories, more protein, and lower carbs than the commercially available bars!  (All nutritional information is based on the data on product packages and where that isn't available, from nutritiondata.com)
Try it – you'll like it!

Making these energy bars could not be much easier – measuring and mixing the ingredients takes about 5-7 minutes maximum, forming them into bars (or whatever shape you prefer) takes about another 10 minutes, and they bake in around 15 minutes. You certainly can double the batch to make 20-32 bars.
Store them in Ziploc bags or in an airtight container, and they'll keep for about 2 weeks at room temperature… if they last that long!!
Email me or comment if you have questions, or if you have your own energy bar recipe.
I should mention that if you are making significant changes to your diet, please seek the advice of your physician or a qualified nutritionist.
Enjoy!!
8.9.08 Edit: Here's a picture of a batch that I made this afternoon. I didn't have any bananas, so I used 3 egg whites and a little extra juice, a combination of chopped dates and craisins, and made 16 bars. These are a bit larger than most commercially available bars. One of the fun aspects of making your own bars is that you can improvise a bit:
8.19.08 Edit:Â  For more tips and suggestions on making your own energy bars, click on this link to see a brief follow-up post.
5.30.09 Edit:  I've added a 4×6 recipe card to the FREE Downloads page; just download it (it's a Word document), print and add to your recipe box.  Thanks for being here and reading this; please consider subscribing if you don't already!
Similar Posts: