This is the counterpart to my recent post DIY: Hide a key inside your home where no one will find it!
If you're like a lot of people, you rely upon your garage door opener for access to your home a high percentage of the time. In order to enter our home, 99.9% of the time my wife and I use the door openers which are integrated into our cars or the keypad I installed alongside the garage door. If we're going out for the evening with friends and they're driving, I don't bother bringing a house key – we'll just use the keypad when they drop us off later in the evening.
But what if there's a power outage?
If it's a workday and I'm returning home at the end of the day, I do keep a house key on the removable tab in the backpack that serves as my daily bag:
If I don't have my backpack with me and the power's out, though, I'm totally locked out. What to do?
Security experts generally advise against hiding keys outside your home. This link is to an article on the State Farm web site which contains some good general information about home security – note that it cautions against hiding a key outside. But if I'm locked out of my house, there's a power outage or the garage door opener has decided to be temperamental – uh, thanks State Farm for your input, but I really need to get in somehow, short of breaking a window. For that reason I've chosen to hide a key outside our home, but have done so in a way that I'm extremely confident no one would ever find it. This post will cover some tips on how you can do the same.
Avoid the obvious!
One VERY obvious option is hiding a key beneath the door mat or under a flower pot or planter on the front porch – you might as well leave the door unlocked if you're going to choose such an obvious place! But with a little cleverness you can hide a key in an accessible location that your typical burglar (usually males under the age of 25) would never think to check.
I'll cover a couple of options, both of which I think are pretty good. But first…
A few ground rules:
Don't hide a key within 15′ of any door the key operates

– for obvious reasons
I'm assuming you want to hide a key for

emergency use only

– going out and retrieving the key once a week or every few days increases the likelihood that someone will see you doing so, thereby compromising the security & value of your hiding place
Initially hiding a key as I'll describe doesn't take more than a minute or two at most – but be discreet when you do it – if necessary, do it at dusk or after nightfall
Finally, if you have neighbors who you completely trust – use one of these methods but hide the key outside their home. If someone were to somehow stumble across the key, they'd naturally assume it's the key to that house – not yours!
Option 1

Let's revisit one element of the methodology I covered in my post about hiding a key inside the home: hook & loop tape, more commonly known as Velcro®. Those merry pranksters over at Velcro® (no, I have no connection to the company) have an upgraded version of the product called Velcro Extreme: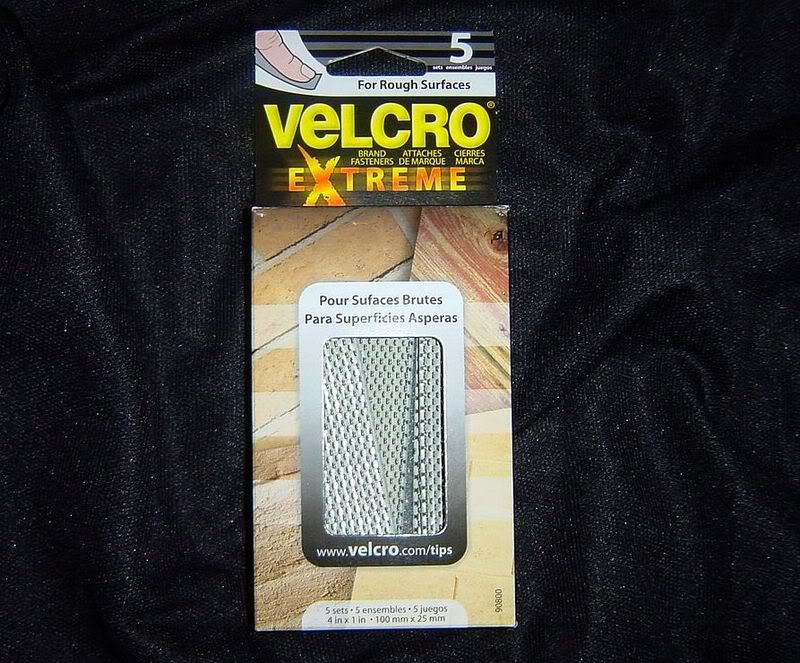 Extreme is a heavy duty version for use on rough surfaces (brick, cinder block, etc.) and is designed to withstand extremes in temperatures. It's essentially Velcro on steroids; here's a close up picture: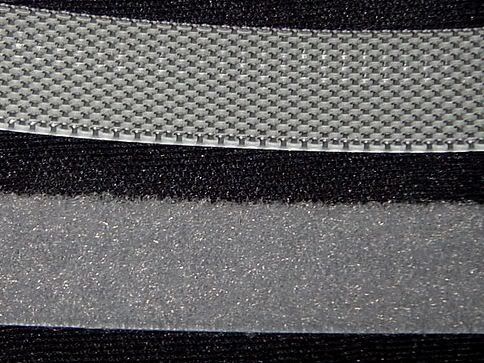 It's a bit tough to get a good picture of the hook side (top in the photo above) but this should give you an idea. A package with five 4″ long sets cost less than $5, by the way. Line up your key on the "loop" (fuzzy) tape and cut a piece to match:
Here's the key after I trimmed the excess off with scissors (left image):
Armed with this and a 2-3″ long piece of the hook material (to make it easier to replace the key; above right) let's go find a hiding place…
Out in the open, but where no one would think to look…
You ideally want a hiding place that at first seems to have contradictory qualities – it needs to be accessible, but can't be an obvious hiding place. I walked around our house and found 3 good spots within a minute or so:
1. Here's an option I love: inside the piece of rain gutter used to direct water away from your house. Although the surface is corrugated, the heavy duty Velcro will adhere to the underside of the top surface of the gutter. Located a couple of inches inside, the key is protected from the elements (any water traveling through the gutter will be flowing over the bottom surface, not the top!) and can be removed in a second or two. As with all 3 options I'll show which use hook & loop tape, clean the surface you're going to adhere the Velcro to thoroughly, using a clean cloth or rag, remove the backing from the Velcro, and press it firmly in place. When you need the key, just reach in, twist the key to the side and you're good to go.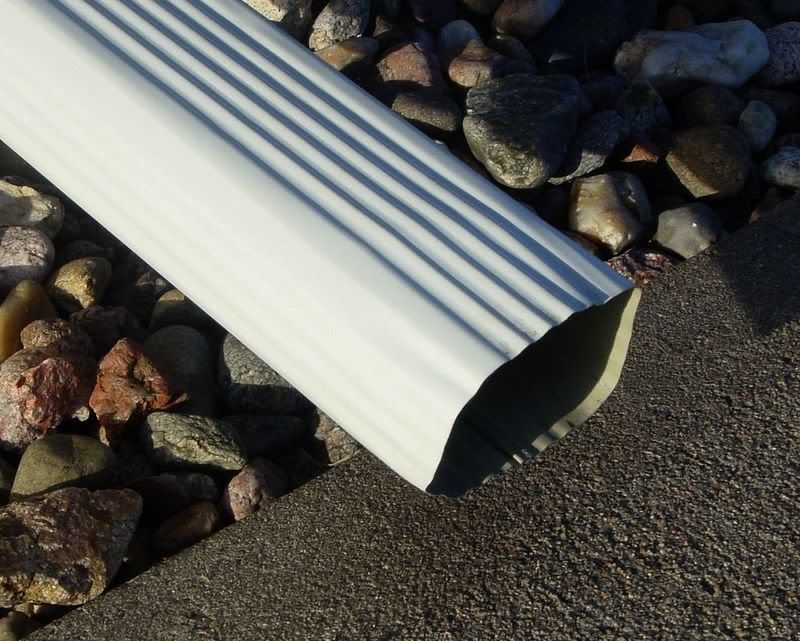 2. I'd never noticed this before, but when the HVAC contractor installed our AC unit, they used a polyethylene base that's a little too small. The unit overhangs the base by about 2-1/2″ inches or so on one side, leaving a very clean and protected surface (the underside of the AC unit) to which our Velcro can be applied. Just clean the surface, remove the Velcro backing, & press it firmly in place; you have a hiding spot that no one is ever likely to consider…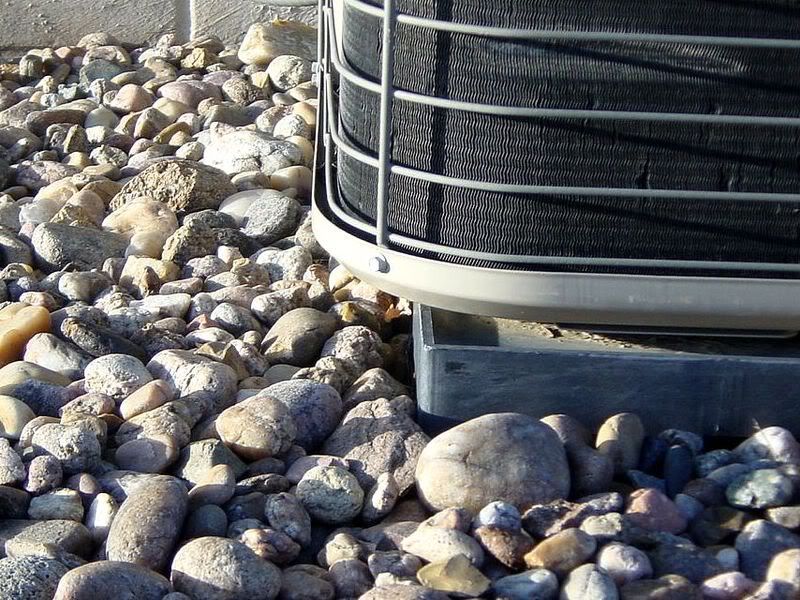 3. Finally, when I was poking around the gutter mentioned previously, I reached under the siding nearby. There's a nearly 2″ deep surface available at the inside bottom of the lowermost piece of siding – and there's enough room to reach in and place the Velcro behind the siding. Clean the surface with a rag, remove the backing tape, and press it firmly in place; who would ever look here??…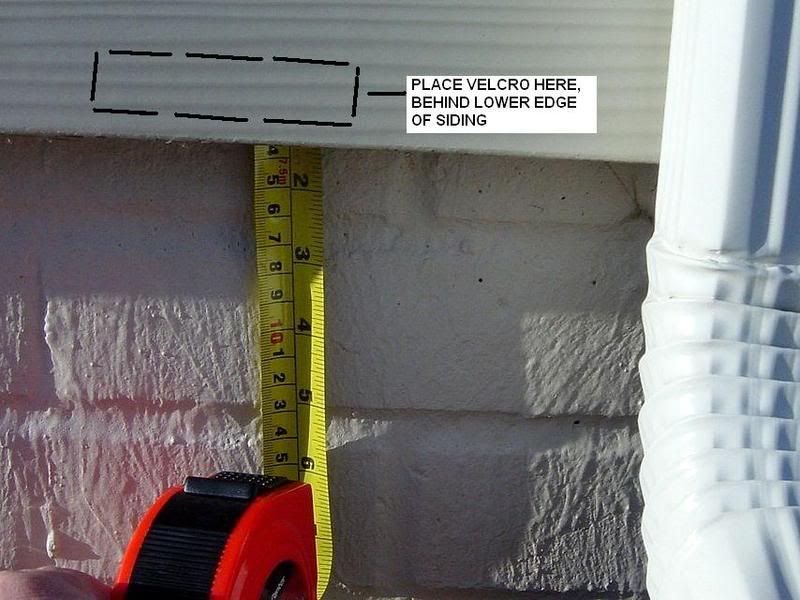 Option 2
A bit less elegant but every bit as effective, the second approach I'll suggest uses nothing more than a small ziplock bag. Small bags like this are readily available at craft shops, car swap meets, and of course on the internet. You may also find them at electronic parts stores. All the bag is doing is protecting the key from the elements; you could probably just wrap it in plastic wrap. In this case I'm using a 2″ x 4″ bag:
In this case I simply want to find a spot along the foundation where I can put the key beneath some mulch. In the photo on the left I've pulled away the top layer of decorative stone used around our foundation and put the key in place; when covered up the key is hidden and protected by a 2-3″ deep layer of stones (right photo):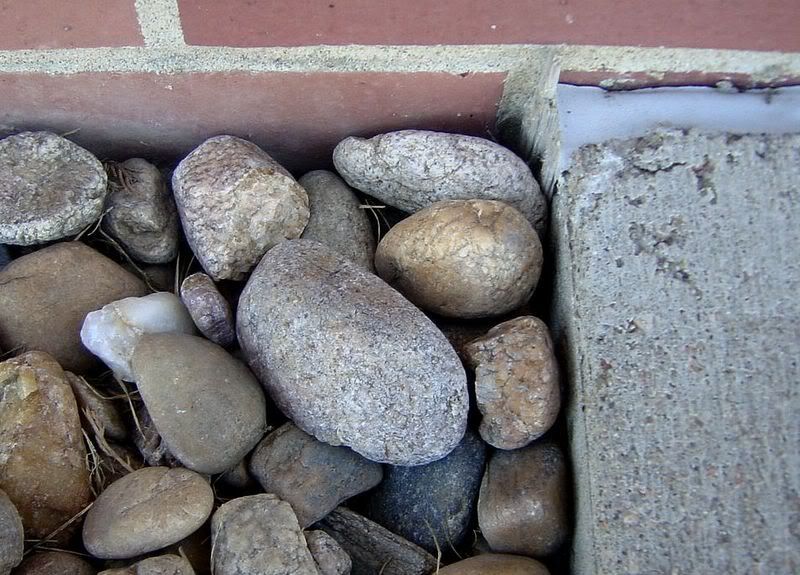 Keep in mind if you live in a northern climate, you'll want to avoid having snow drift over the spot you've selected. If I were to use the spot shown above, it's near where I normally shovel and I could keep the snow cleared off without the fact that I was doing so looking odd or raising suspicion.
That's it — as was the case when hiding a key inside (related post,) there are numerous other out of the way hiding spots that you can utilize – if you wish, please comment and provide your ideas…
P.S. In the course of writing this I realized that there's another scenario – I drive home without my backpack (no house key with me) and the power's off. I don't feel like using the key I've hidden outside (neighbors are outside nearby, a bunch of kids are walking by, etc.) In both our cars I discovered that there's a vertical surface on the side of the trunk that is completely out of the way and which would also easily accommodate our Velcro and key. Here I am shown reaching up there – there's a painted metal surface that'd be a perfect spot: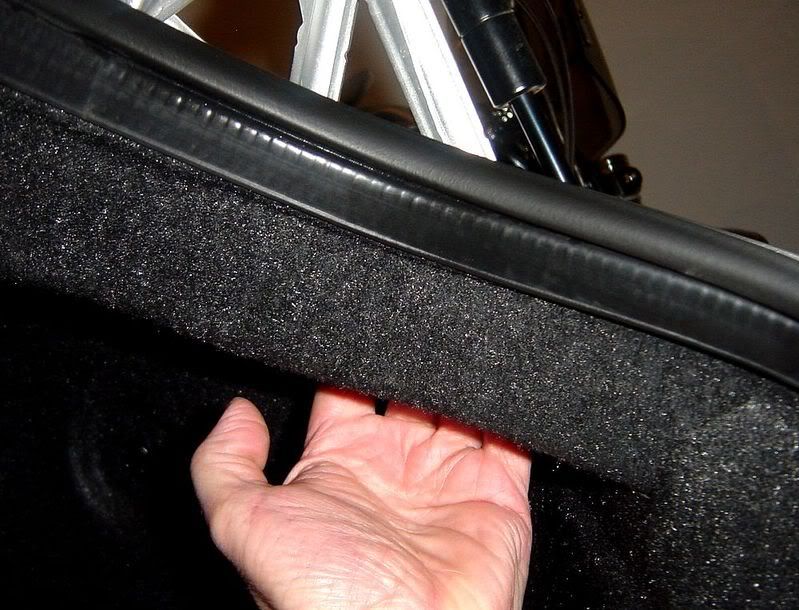 One critical NOTE: If you decide to hide a key in your trunk as suggested here – or anywhere else in your car (your glovebox is a really dumb place, by the way) you MUST do this first: go to where you keep the title to your car. Put a note with your title: REMOVE HIDDEN KEY. When you decide to sell or trade in your car – preferably when you DECIDE to do it, not when you actually sell it, – remove the key. When you get caught up in selling the car however, you may not remember to do so. The note with the title is a last chance reminder, should you forget.
5/3/08 EDIT: An alert reader asked an obvious question at this point: why don't I just carry a house key on my keychain??? See my comment in the comments section. I carry only one key with me, and it's the "smart" key for my car. See below, and thanks again, Carl!
December 2011 EDIT:
Another clever option, which I just discovered – a decoy sprinkler head key safe:
A set of two is only $6.99 at Amazon:Â  Sprinkler Head Hide-a-Key
That's it – be safe and secure in your home – AND have a hidden key handy should you ever need one!
Similar Posts: