Several of the Tim Russert tributes and remembrances I've read since his death on June 13th have not only provided insight into his upbringing, education and beliefs; a few also included photos of Russert as a young man.
This got me thinking – prompted in part by Russert's obvious excitement with the current Presidential race – about the candidates, wondering if there are any readily available childhood photos of McCain and Obama on the internet. Perhaps a few photos from their early years could provide some insight into their personalities and upbringing, and a new angle from which to better understand them.
Up First: Obama
A quick Google search was an instant success, offering several links to a number of photos of a young Barack Obama…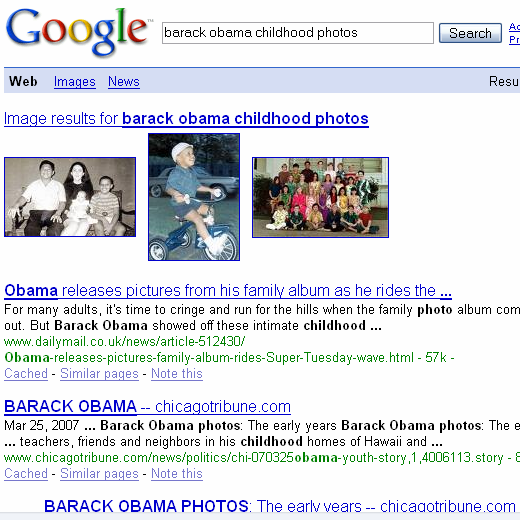 Terrific! A couple of additional clicks and I was able to easily find about a dozen or so candid shots from Obama's childhood. It didn't hurt that his campaign had released several of the photos, but I really didn't care; I was simply looking to learn a little bit more about the candidates' early years.
Here are several of the Obama pics; in this one, an obviously very happy Barack on a tricycle at (guessing) age 4 or so: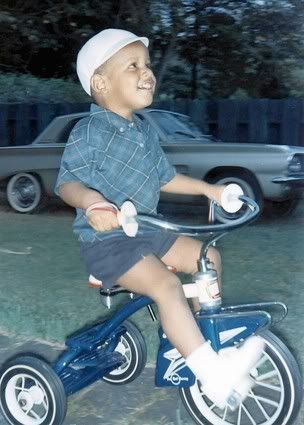 Here young Barack is seen with his step-father Lolo Soetoro, his sister Maya Soetoro and his mother Ann Dunham: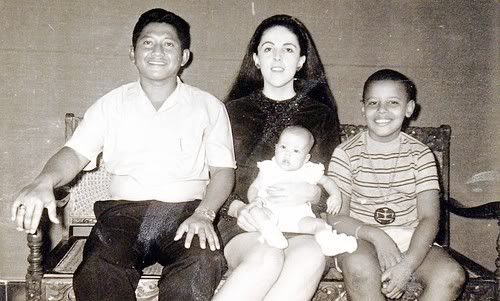 Barack comes off as a happy, well adjusted young boy…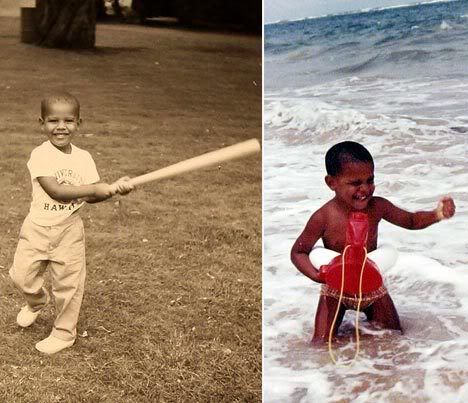 Barack, 3rd from the left in the top row, from a 5th grade class picture taken at the Punahou School in Hawaii:
Posing with his maternal grandparents: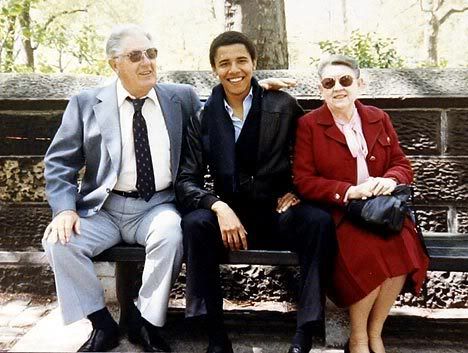 Like the rest of us who are old enough to remember, Barack wasn't able to escape the wide lapels favored in the 70's. Nice 'fro, by the way!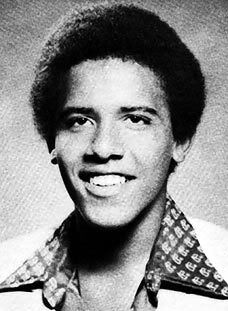 All in all, there are several images of Barack Obama from his childhood and young adulthood. Although I know that the Obama campaign released some of these photographs, I was nevertheless struck by how happy he seemed in virtually all of them.
Next: McCain
Next on to John McCain. I ran exactly the same search, of course with McCain's name: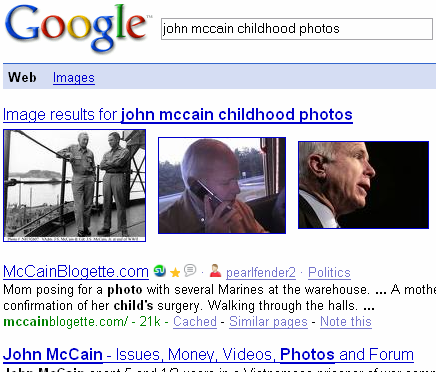 Huh. What's this? The first picture is a shot of McCain's grandfather, Vice Admiral J.S. McCain Sr., and McCain's father, Commander J.S. McCain Jr., taken at the end of World War II. Er, OK, that's great, but how does this particular Google search come up with this image?? It gets weirder. The second image is a contemporary photo of McCain speaking on a cell phone. And the third looks like a standard photo from the campaign trail.
After my success searching for Obama childhood pics, this seems a bit odd. McCain has spent so much of his life in the public eye, you'd think at some point pictures of him as a youngster would have been made public.
Undeterred, I then searched for "John McCain childhood," "John McCain the early years," "John McCain class photos," (one of the resulting thumbnails was a picture of the USS John S. McCain launching a missile – fascinating stuff, but hardly a "class photo.") I was getting discouraged. This seemed preposterous. Surely there are childhood pictures of McCain on the internet! Finally, one last attempt… "John McCain boyhood photos," and this is what I get: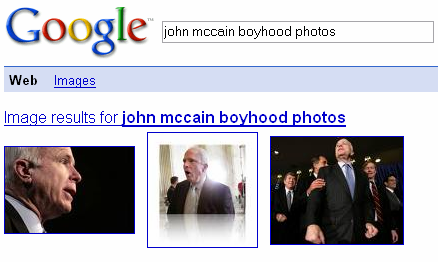 Why are there no McCain childhood photos???
Holy crap! What is going on here? The earliest pictures I can find of him are from the Viet Nam war era, and include a picture of his capture and return from captivity. Really, I'm dumbfounded. There's plenty of information about McCain out there, but in about 20 minutes of searching I couldn't find a single childhood pic. Frustrated, I gave up and went to bed.
I ended up tossing and turning for hours, wondering why my search was fruitless. Did I use the wrong search terms? That makes utterly no sense – it worked just fine for Obama. Perhaps I should use "John McCain III" or "John McCain senator" plus the other search terms. I get up at 3AM and try this variation. It doesn't work.
Finally, a plausible theory!
Finally at around 5AM I figure it out. Of course!! How stupid of me! I should have realized this a LONG time ago!!!
I jump (well, stumble) out of bed and get on my computer. Just two more quick Google searches and I'm sure I can prove out my theory. Here's the first: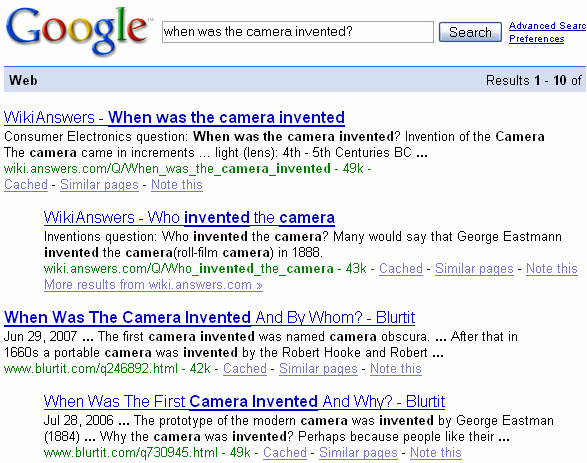 Hmmm… I see a reference to 1888 and another for the 1660's. 1888 seems reasonable, but I'm not too sure about the 1600's. I mean, I know McCain is old and all, but he couldn't have been born in the 17th century, could he????
Aw hell, there goes that particular theory. I'd just assumed the camera hadn't been invented until after McCain's childhood. I need to get some sleep!
All seriousness aside, it was fun to see pictures from Obama's childhood, and I wish some were readily available from McCain's early years. If anyone has found any McCain childhood photos on the internet, let me know. I don't know about you, but I'd pay money for a picture of a young McCain with an Afro.
-kc 6/22/08
P.S.: Full Disclosure: I'm a registered Republican. I have nothing to do with either campaign. I think McCain is a genuine hero. Too, I find Obama's story very compelling, and after 8 years of Bush, a change would be welcome. But I am a bit concerned about Obama's record. Finally, I've by no means made up my mind. This post started with a simple Google search because I was curious, and developed (pretty much) as described above.
Thanks for visiting, and if you like what you see here, please subscribe by clicking the orange RSS button at the top of this page.
Similar Posts: