Have you ever begun unpacking at your destination only to discover that you'd forgotten to pack some essential – or even basic – item? Ever gone to a trade show and discovered that you only have a handful of business cards in your bag? Ever unpacked your toiletries and discovered you'd somehow forgotten to pack deodorant??
If these scenarios sound familiar, you really ought to take five minutes to read this post and create your own customized packing checklist for your next – and future – trips. You'll be able to save it to your hard drive, adjust it in the future if necessary, and can print it and keep it in your bag for future use. Best of all, it's FREE and very easy.
I recently posted about a motorcycle trip I was taking, and described creating a customized packing list for any trip, thanks to a terrific application located at micapeak.com
I wanted to take things a step further in order to make it as easy and simple as possible for you to create your custom checklist, so yesterday afternoon I took a couple of minutes to create simple checklist for a typical business trip; a couple of screenshots are located below: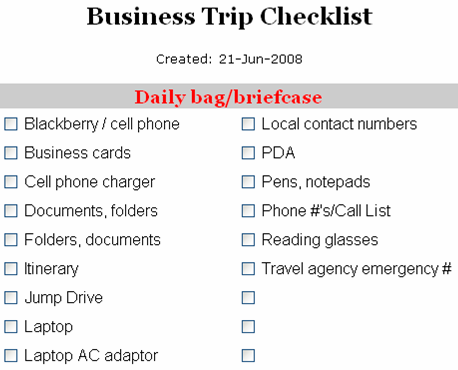 To make it as easy as possible for you to create your own customized packing list, I've created a Word file which was used to create this checklist… just click on the "FREE Downloads" page link in the header and download the "Business Trip Checklist input" file – it will only take a few moments.

You can then create your own checklist by adjusting the data in this file to perfectly reflect your needs. Then simply copy and paste that information into the "Generic Checklist Generator" at MicaPeak.com; you'll find it by clicking on this link. The entire process will take only a couple of minutes at most. You can save and print your customized list.
HINT: save the Word "input file" to your hard drive also – if you need to update or modify you checklist in the future, doing so will make it much easier!

If you have any questions, please comment or email me (there's a link at the top of this page.) As always, comments are welcome and please subscribe if you like what you see here! (Click on the orange RSS button in the header to subscribe.)

Travel safe!
-kc 6/21/08
12/21/08 Update: you can of course adjust the input file for ANY type of trip.  I tweaked the file today and the updated version is available on the Free Downloads page – go for it: it's simple, easy and very handy!
1/10/09 Update: I've added two checklist pdf files to the Downloads page – one for men, the other for women – to make it as simple as possible for you. (You don't have to create your own – just use one of these.)  Check them out and let me know if you'd like to see any changes.

Similar Posts: