Years ago I was driving from Albany to Oswego NY late at night when I realized the rear end of my car was acting oddly – it felt loose, particularly when I went around turns. I pulled over and discovered that my left rear tire was almost completely flat. The good news: I had a spare tire and functioning jack. The not so good news: I was on the side of a 2 lane road about 100 yards past a big sweeping curve, it was pitch black out, I had no flashlight and no way to warn any cars coming around that turn. Fortunately I was able to get the flat off and the spare tire on the car and get on my way without mishap, but it was a bit of a scary experience.
Since then I've carried an emergency kit in my trunk, and it's given me peace of mind and has come in very handy a couple of times over the years. If you've got about $50 and 15 minutes, you can have a terrific roadside emergency kit in your trunk.
Disclaimer: I am not suggesting you go out and buy the individual items for your kit, although that's certainly an option. Any Wal-Mart or any decent auto parts store carries basic roadside emergency kits; I suggest you purchase one and then augment it with several additional items.
The kit shown below was actually purchased from Woot.com for less than $20. Wal-Mart sells a basic emergency kit for $20 and a slightly more elaborate one for $30. These kits usually contain the basics: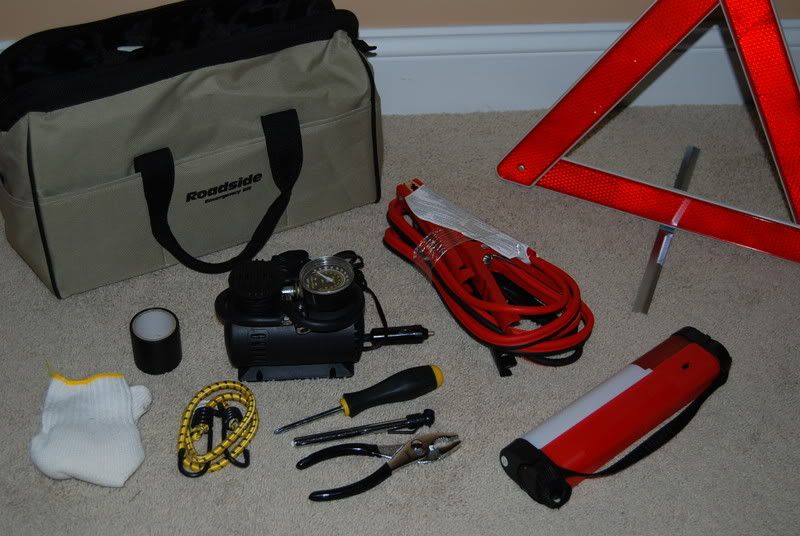 In this case, it contains:
Tire inflator (cigarette lighter plug)
Flashlight
Jumper cables (not the best cables around, but serviceable)
Gloves
Bungee cord
Folding warning triangle
Tire pressure gauge
A couple of simple hand tools – pliers, screwdriver
To this I suggest you add several items as pictured below.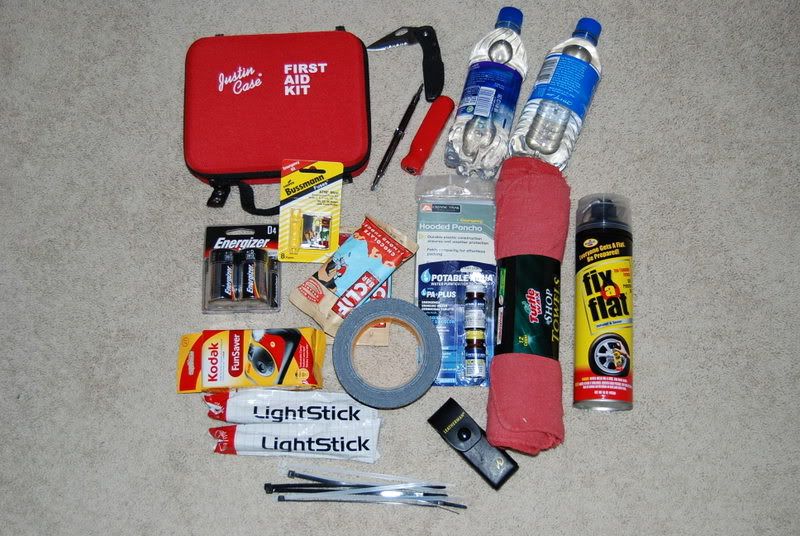 First aid kit
Extra batteries
Disposable camera
Lightsticks or other back-up light source
Wire/zip ties
Roll of duct tape (of course!!)
A few granola bars (Clif bars are shown here)
Shop rags
Germicide to make water potable (sold in the camping supplies dept.)
4-way screwdriver
Extra fuses & fuse puller (make sure you get the right type for your car – most cars manufactured in the last decade use mini fuses)
Can of Fix-a-Flat — for quick, on the fly flat tire repairs — NOTE: does not work well in cold temps!
Leatherman tool
Bottled water
Knife
A plastic poncho
With the exception of the Leatherman tool, all of these items are available at Wal-Mart or similar stores and you can purchase all of them in a matter of 10-15 minutes. Then just find a suitable bag (a small nylon gym bag would be fine) to hold everything and put it in your trunk.
Another obvious option would be to include a few road flares.
If you live in an area with tough winters, consider adding a shovel, blanket, ice scraper (although you'd presumably have this in your car anyway) and you may want to consider a couple of cans of Sterno and a small camping-style saucepan (for melting snow if you REALLY get stranded!)
A small battery or (better yet) crank powered portable radio is also worth consideration. Wal-Mart (and no, I'm by no means a big fan of Wal-Mart, it just happens to be convenient for a lot of people) sells this crank-powered emergency radio/light for $20; here's a link.
Take a few minutes this weekend and put together a roadside emergency kit for your car – with summer vacations and travel imminent, this is the perfect time to put a little peace of mind in your trunk!
Thanks for visiting, and let me know if you think I've missed anything essential! As always, if you like what you see here, please subscribe by clicking any of the 3 options at the top of the right hand column.
-kc 6/13/08
Similar Posts: