Faithful LifeApps readers know that I don't have a lot of patience with email and favor an aggressive approach to managing your Inbox.
Occasionally however, we'll receive emails which require more time to respond to – and/or which don't require a response immediately. OR… they'll require collaboration with several colleagues who you'd like to meet with in order to formulate a response.
A little known technique enables you to add such messages to your calendar so you can formally schedule time for you – and your coworkers, if appropriate – to develop your response…
Let's say you get an email which requests your response by a certain date and you're buried until that day or the day before. In this hypothetical case I've sent an email to myself asking that I complete a "marketing scorecard" by May 12th. Completing this task won't require a lot of time, but let's say I can't deal with it until the 9th or I need to consult with someone who's out of the office until then…
If I left click on the email, I can drag it down to the Calendar OR Task icon on the Outlook Bar. In this case, I've dragged it to the Task icon. I simply set the due date as 9AM on May 12th, and the start date as May 9th. Once I click on "Save and Close," it's set as a Task in Outlook. (Incidentally, all examples here are from Outlook 2003 – but this should work in Outlook 2007 as well.)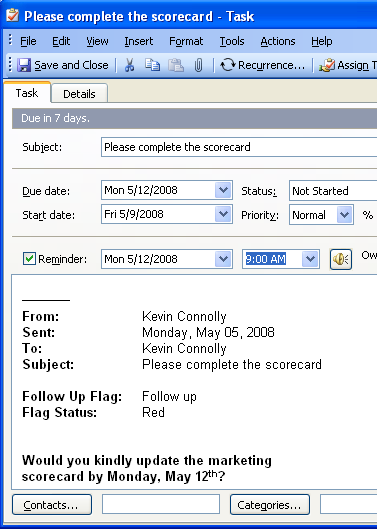 Similarly, the same process will actually set aside time for me to deal with the issue as a meeting on my calendar, were I to drag the email to the Calendar icon in the Outlook Bar. The full content of the email is captured in the task or meeting details.
NOTE: as shown below, the original email will remain in my Inbox. IF I delete it, the Task or Meeting will remain in Outlook.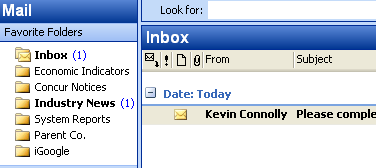 Try this technique the next time you want to set aside time to deal with an important email.
As always, comments are welcome, and if you like what you see at LifeApps, please subscribe by clicking on the orange RSS button at the top of the right hand column. Content is updated daily, with a focus on productivity, marketing topics, DIY projects, and other items designed to help you enjoy your professional and personal lives to their fullest. Thanks for stopping by!!
-kc
Similar Posts: