Everyone at some point in their professional or personal life sends an email that they instantly realize – in that moment of extraordinary clarity or lucidity that invariably follows doing something monumentally stupid – they shouldn't have sent.
What can you do if you somehow cleverly manage to send out a boneheaded, career-limiting message? (Or if you simply realize you've sent it to the wrong distribution group, copied someone you didn't intend to copy, or used wording that you'd like to change…)
The good news: with Outlook (the examples below are for Outlook 2003; the same functionality is available with Outlook 2007, the specific steps will vary slightly) you have two options…
Option 1
First, you can recall the message. Please NOTE: you can recall or replace an email only if its recipient is using Microsoft Outlook and has not read the email or moved it from his or her Inbox.
Here's how to do it:
a) In the example below I've sent a somewhat unflattering message to myself; to recall a message, click on "Sent Items:"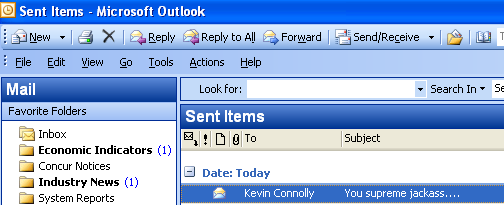 a) Open the email you want to recall or replace and in the email window click on Actions / Recall This Message:

b) Now you can do either of the following: Recall the message or Recall & Replace the message:
To recall the message, click "Delete unread copies of this message;" to recall and replace the message, click "Delete unread copies and replace with a new message." In either case, click OK; when replacing the original message, you'll then type a new message. To be notified about the success of the recall or replacement for each recipient, select the "Tell me…" check box. That's all there is to it – it works great as long as your recipients use Outlook and they haven't read or moved the message from the Inbox.
Option 2
Your second option is a bit different. It has the advantage of allowing you to cancel any idiotic messages to anyone, anywhere, regardless of the email program they're using; the disadvantage is that you have to come to your senses within a reasonably short amount of time.

This approach involves setting up a very simple rule. From Outlook, click on Tools, then select "Rules and Alerts:"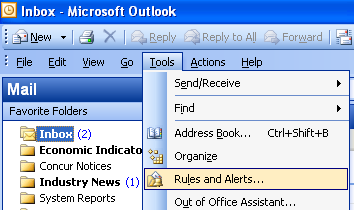 Doing so will launch the Rules and Alerts dialog box; click on New Rule and then click OK:
This will launch the Rules Wizard. Select "Start from a blank rule" as shown below, and click on "Check messages after sending," and then click Next: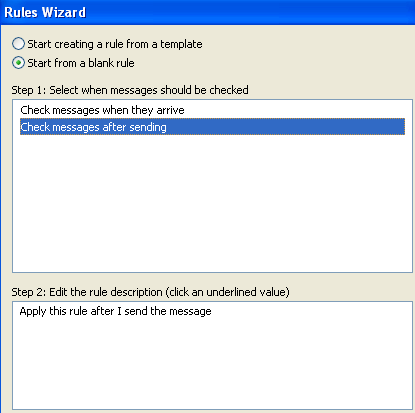 Don't check/select any of the options in the next Rules Wizard dialog box – just click Next. Doing so will launch this dialog box; click "Yes:"
In the Rules Wizard which then launches, select the bottom button, "defer delivery by a number of minutes:"
Next click on the underlined "a number of" link; it'll launch the dialog box shown below. In this example I selected 5 minutes and then clicked "OK" and then clicked on Next…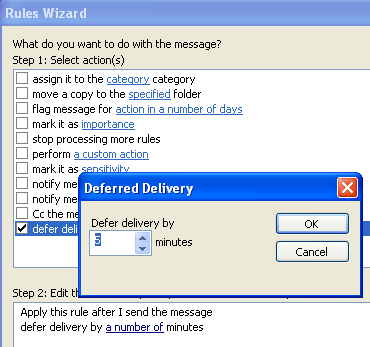 With the next Rules Wizard, don't select any of the options:
Simply click Next…
You'll then be prompted to name the rule. You could name this rule "Oops I did it again," "Cancel dumbass messages," or something similarly entertaining; in this example I simply chose "Defer Delivery." Check the "Turn on this rule" box as well:
And then click Finish. Click OK to the following question:
This will return you to the main Rules and Alerts dialog box – where you started – just click OK.
From this point on, every email you send will basically be put on hold in your Outbox for the number of minutes you've selected.
Usually when we have second thoughts about an email or realize that we sent it to the wrong distribution group, we realize the mistake quickly. Setting up this rule will enable you to take advantage of those second thoughts – or moments of clarity – and cancel sending the message. (Simply go to your Outbox and delete or modify the message.)
The only downside to this approach happens when you send a message late in the day and then go to close Outlook within the time limit you've selected – you'll get a message saying you still have messages in your Outbox, asking if you really want to shut down Outlook. Other than that, it couldn't be simpler.
Hope this helps… just in case you ever need it!
Please comment, and if you like what you've seen here, feel free to subscribe to LifeApps by clicking on the orange RSS button at the top of the right hand column; you can also subscribe via email – that link is immediately below the RSS button. Thanks for stopping by!
-kc
Similar Posts: