About every 8 weeks or so the merry pranksters in our IT Department send everyone in our company a friendly message like this: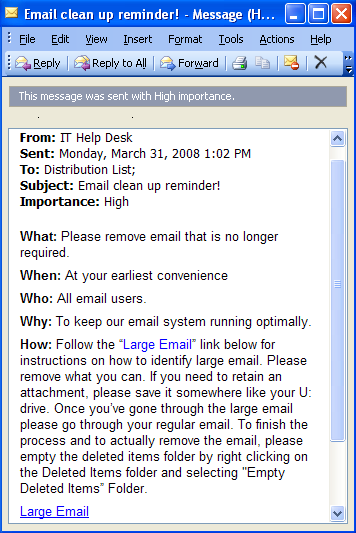 This is just swell, but what if some of the emails you want to hang on to have really large attachments – but need to go to free up space?
Or, what if you're a follower of Lifehacker editor Gina Trapani's "Trusted Trio" approach and have an enormous "Archive" folder – and need to delete some of those messages to make space available?
Fortunately there's a really simple solution which will make space available AND enable you to retain your messages in an Archive file. Should you need to access them, you can do so in a matter of moments as I'll show you shortly…
In this example I have a folder which contains a number of sales reports which are sent to me automatically at the end of each fiscal period. I need to have access to them, but don't need them cluttering up Outlook. Here's how to archive them: just highlight the folder so you see its contents: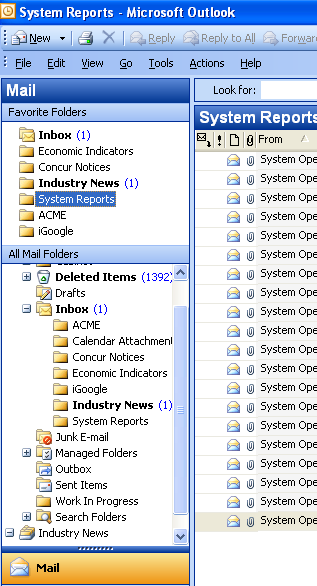 Then click File/Archive. This will launch the Archive box shown below. Make sure the 2nd radio button is selected – "Archive this folder and all subfolders." Note that you can choose how old the messages are that you wish to archive. Finally, you can identify where you want to archive the messages. In this case I've created an Outlook folder in My Documents, and will save the contents of the folder in question as "System Reports2." Go ahead and click OK.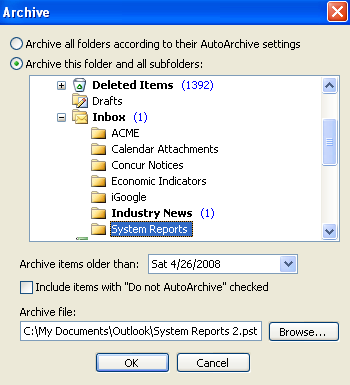 As you watch, the files will be removed from the original Outlook folder – which will be emptied completely in a matter of seconds.
Your emails are now saved in the folder you previously identified. Here is my System Reports file in the My Documents/Outlook folder: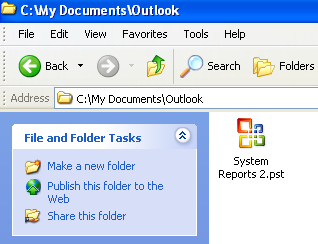 If at some point you need to retrieve the files, simply go to Outlook and click on File/Open/Outlook Data File…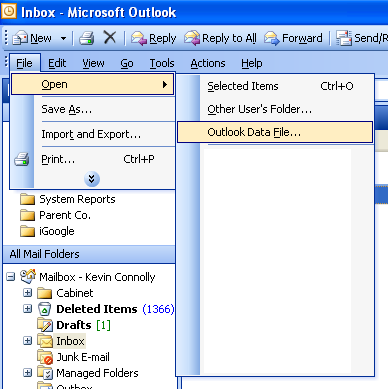 Navigate to your file, highlight it and click OK. In a moment or two a folder named "Archive Folders" will appear at the bottom of the Outlook folder directory. Expand it, expand the Inbox subfolder, and highlight your folder – in this case, System Reports – and the emails are returned to Outlook: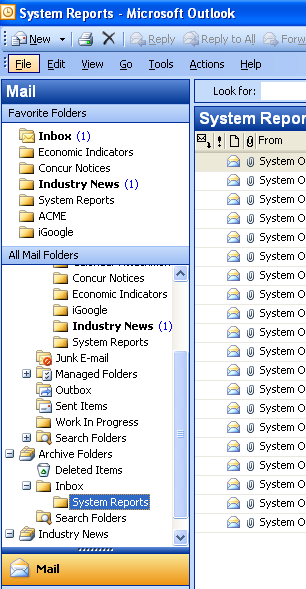 If you wish to delete an Archive Folder simply highlight it, right click, and select "Close Archive Folder."
That's all there is to it. Now you have a way to keep the IT guys (and gals) happy – AND can retain all the messages you wish to. Note that you can open up an archive file, work with the messages for a period of time, and then delete the entire Archive folder in Outlook… the .pst file remains where you saved it on your hard drive.
Of course if you wish to save individual emails, simply use File/Save As and navigate to the folder where you want to save the message. I usually add the sender's last name and the date when the message was sent before saving it – this technique is described in Step 11 of my post, A 12 step program for curing your Outlook In Box Addiction.
Thanks for looking and please comment if you wish!
-kc
Similar Posts: