Have you ever saved files to a thumb drive at work so you could bring them home & left the drive at work? Or worse yet, lost a thumb drive?
I was thinking about how many files I have on one of my USB drives and came up with a simple solution that only took a few moments to complete.
Our HR Department has retractable badge holders available for employees' ID badges. (You can find similar items at any locksmith shop.) They look like this and are intended to be clipped on your belt or pocket; the retractable cord is about 2-1/2 feet long: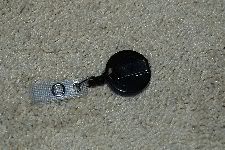 To put my thumb drive on a leash I cut off the plastic tab for the badge holder, put an extra key ring through the USB drive and in turn through the small metal loop on the retractable cord: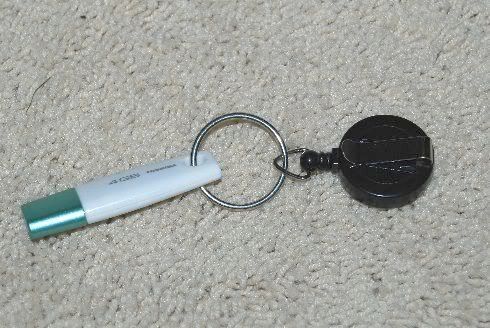 I then mounted it to the audio port inside one of the top zippered compartments of my backpack: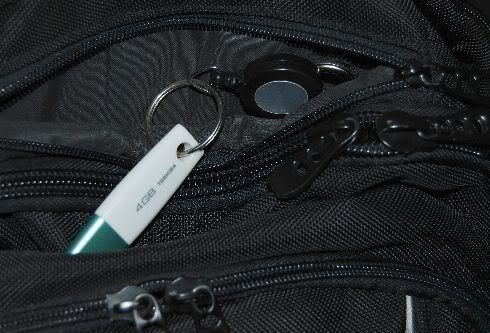 At home I just set the backpack next to my PC and plug in the thumb drive:
I have a similar setup at work with a USB hub that's convenient to where I place my backpack each day.
Never lose a thumb drive again with this simple solution! Related: see my post on 11 essential things you need to carry in your daily bag for my take on the important (other) items which should always be in your briefcase or daily bag.
Please comment or if you wish, subscribe to LifeApps by clicking on the orange RSS button at the top of the RH column. Have a great day!
-kc
Similar Posts: