Photo taken at O'Hare by jahdakine
Recently two colleagues and I arrived at the airport in Louisville to head home after a brief business trip. After dropping off our rental car and heading into the terminal, they went off to stand in line and wait to check their roller bags; I instead went to a nearby bookstore, bought a magazine, and went to wait for them in a restaurant where we'd agreed to meet. I was midway through my 2nd beer when they showed up 15 minutes later. And when we arrived home hours later, they went to baggage claim to wait for their checked bags while I headed directly to my car. Ah the joys of traveling with one bag! If you want to dramatically simplify your life as a road warrior, you ought to seriously consider adopting a minimalist approach to your luggage & packing.
Why adopt a minimalist or "one bag" approach to travel? There are many reasons. Some of the more notable benefits are increased security (you don't have to check your bag, so baggage handlers won't handle or potentially open it), greater flexibility (should your connecting flight be canceled, you've got everything with you), lower costs (no paying bellmen to lug your stuff to your room), and less stress (it's just flat out easier and way less worrisome.) I wholeheartedly recommend Doug Dyment's One Bag – an incredible resource for those who are interested in making all their road trips simpler and more enjoyable.
In this article I'll address how to handle a short business trip with nothing more than a backpack…
First, a word about the items I won't be packing but which are absolutely critical – namely, what I wear upon my departure. What you wear when leaving on a trip is extremely important, as it's a critical aspect of traveling light successfully. My normal "departure clothing:" a pair of versatile, preferably slip-on (read:  TSA) shoes, a darker – olive, navy or black – pair of permanent press slacks, a dress oxford or golf shirt depending upon the nature of the trip and my plans upon arrival, and finally a sports jacket that's versatile enough to work with both what I'm wearing and the slacks and shirts I'll be packing. In the wintertime, I'll add an overcoat if necessary.

The "Bundle" Method
As for packing, I'm a firm believer in the bundle method that Doug describes at One Bag and which is illustrated at Red Oxx (more about Red Oxx later.) In brief, the bundle method involves wrapping your clothing around a central "core," and in so doing, avoiding folds – because folds cause creases. I've been using this approach for a while now, and it works astonishingly well. For those of you who've never heard of this approach, please see the following photographs and explanation:
If packing a sports jacket, you'd put that down first, face down, on a clean, flat surface. As I'll be wearing my jacket, I start with one shirt, and with shirts, place them FACE UP:
Sorry about the moiré pattern! Add a second shirt, oriented 180* to the first:
And so forth, until you've packed 3 or 4 dress shirts: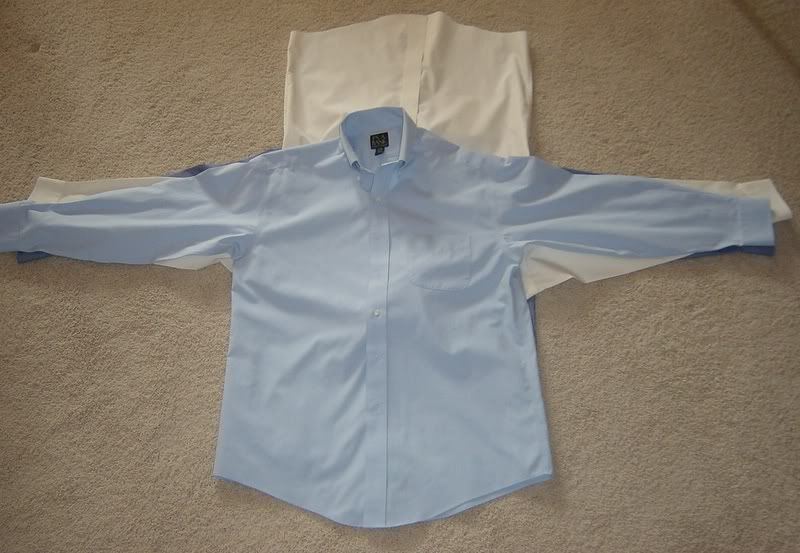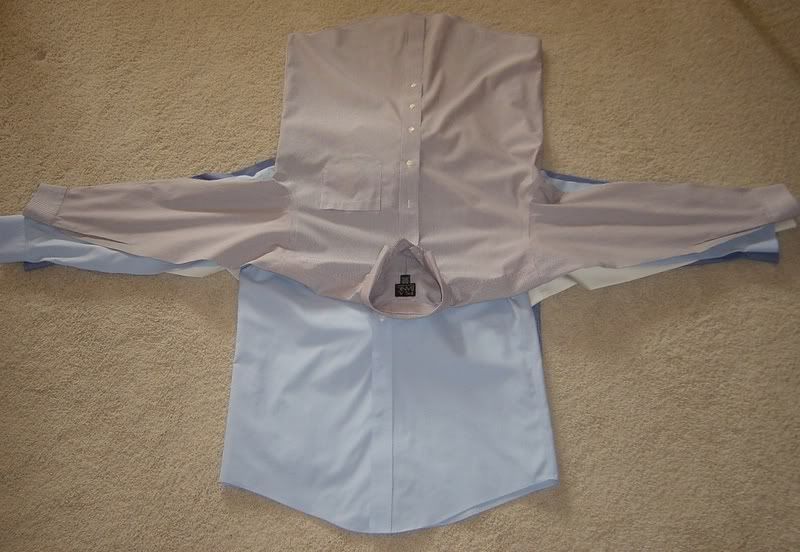 At this point, place your "core" in the center. The "core" is usually a small pouch containing socks, underwear, etc., or you can simply bundle up those items and use the bundle as the core. In this case, I used 3 golf shirts – the type made with high tech material as they travel better than 100% cotton shirts – as this will afford me a bit more flexibility during my trip, should an evening include a casual dinner or outing:
Once the core's in place, wrap the clothing around it, starting with the sleeves, then the body:
(Of course I'll smooth out the material as best as possible before wrapping!)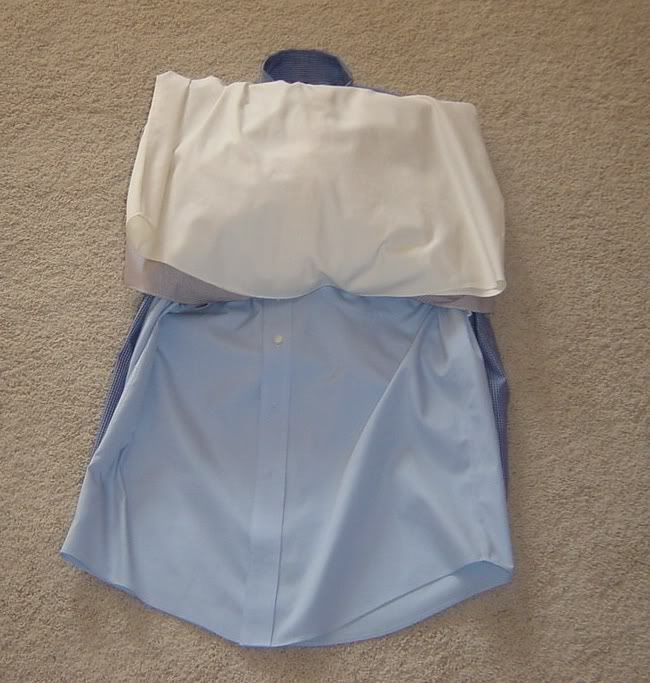 Here's the finished "bundle:"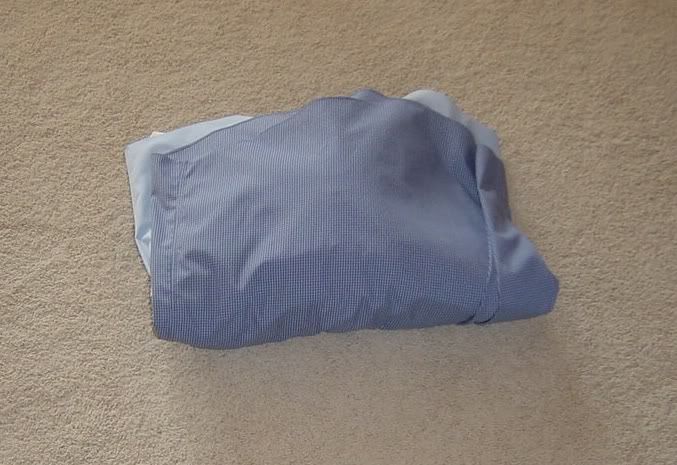 The bundle is then placed – carefully – in the larger compartment in the backpack. Backpacks, if it's not already obvious from this picture, are frankly NOT the ideal bag for packing clothes, given their irregular shape. Rectangular bags are best; but for quick trips, I can make a backpack work just fine; for 5 – 7 day trips, you may wish to consider a high quality bag like Red Oxx's Air Boss… more about that later.
Next I roll (again, rolling avoids folds and as stated earlier, folds will result in wrinkles) a pair of permanent press slacks around underwear, undershirts, and socks, and that goes in the second, smaller compartment of my bag: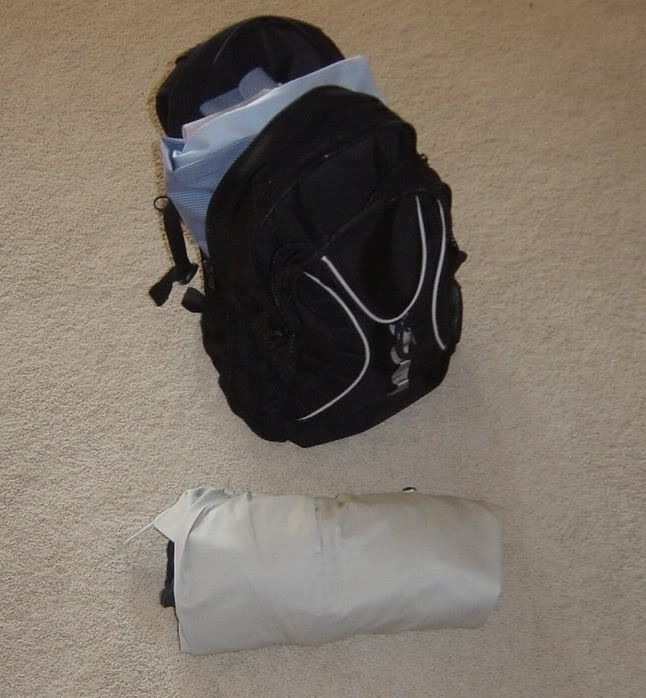 As you can see above, my TSA 1 qt./3 oz. liquids/gels ziplock bag is packed alongside the extra pair of pants.
Here's the backpack zipped up: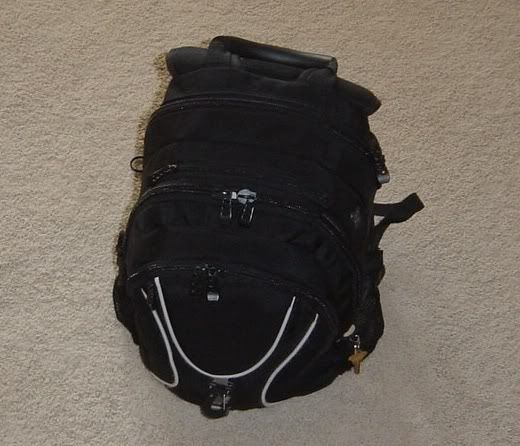 It measures ~18x12x12, and will fit in any overhead compartment or under the seat in front of you on any aircraft. The bag contains the clothing described above, toiletries, a padfolio, a few folders with documents, and the 11 essential items that are always in my daily bag – described in this recent post. I can always fit a few ties in the bag, should the trip require them. Packed as shown here, it weighs 12 lbs. – not bad at all. Slung over my shoulder with one strap, I've never been asked to gate check it when traveling on commuter flights.
In the example illustrated above, I've probably gone a bit overboard with the extra shirts. Certainly my underwear and undershirts could have served as my bundle's core – and that would have made packing the extra pair of slacks a bit easier, and also made it easier to carry a laptop along, should I so desire.
Were I traveling for only a couple of days, I'd adjust the number of shirts accordingly. I tend to wear a darker pair of slacks when traveling in case a flight attendant (or I) were to spill something. For 2-3 day trips, I have the option of adding my laptop and power source. Having said that, recently I've been experimenting with using just my Blackberry and the hotel's Business Services computer when traveling. If I'm making a presentation, I'll bring it along on a jump drive when without the laptop.
A word about clothes: I have had terrific experiences traveling with and just generally wearing clothing from Jos. A. Bank's "Traveler" collection. The quality is high, and these clothes – shirts, pants, jackets – travel wonderfully with minimal touching up. I usually just hang an item or two in the hotel bath and run the shower on hot for a few minutes, if necessary. 1/09 edit: full disclosure – I am now a Jos. A. Bank affiliate.
Does the "bundle" method work??
After packing the bag as shown above, I waited 24 hours and then removed the shirt bundle. Here's what it looked like: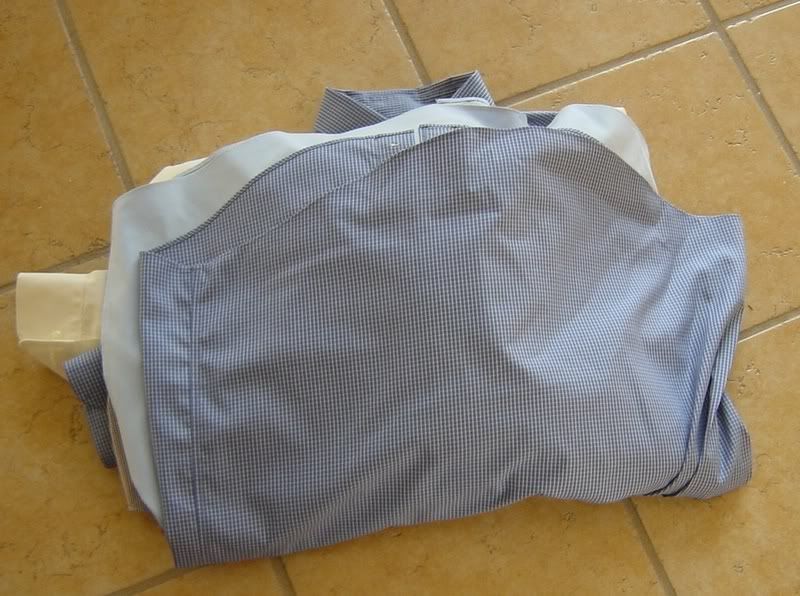 Unbundled, with the core moved up a bit to show the top shirt's collar:
Finally, the shirt which was next to bottom, hung up without any clothes iron touch up or steaming: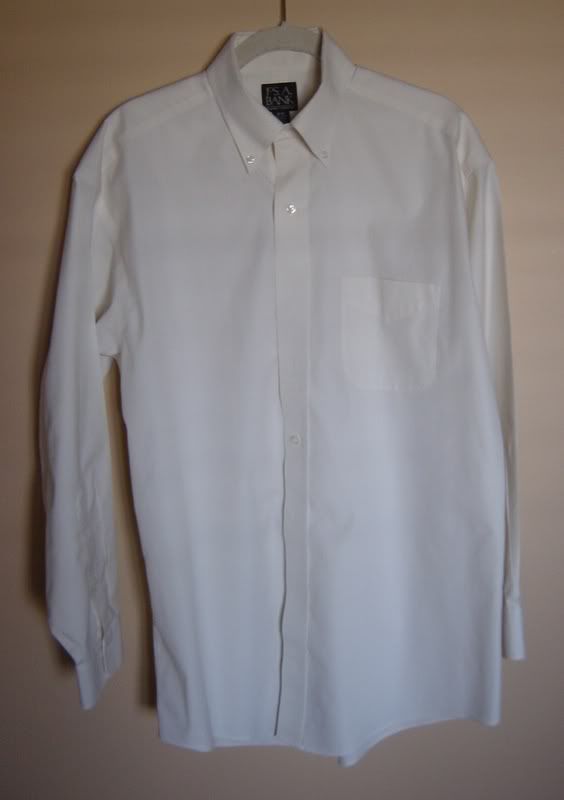 As you can see, it has virtually no wrinkles!
I mentioned Red Oxx earlier. Doug Dyment of One Bag consulted with Red Oxx, a Montana based manufacturer of rugged adventure-type luggage, to design the perfect business-style carry-on bag. The result is Red Oxx's "Air Boss." I've been admiring this product for some time, and finally purchased one a few days ago. I'll give a report along with photos after I've traveled with it several times.
Give it a try!
That's it. Why not try traveling with one bag the next time you travel? You'll avoid all the extra hassle and stress involved in carrying a briefcase and dragging a wheeled bag around airports, parking lots and parking garages, will have greater peace of mind, and will save yourself time by avoiding checking (and at your destination, waiting for) luggage. Give it a try – you may even teach your colleagues a smarter way to travel! As always, comments are most welcome, and if you like what you read here, you are welcome to subscribe to this blog… just click on the button at the top right of this page. Travel safe – and simply!!
Similar Posts: