If you occasionally travel with your clubs, you ought to review these 8 tips – they could save you a lot of heartache and time. There are few guarantees in life – especially when it comes to anything involving air travel – but you can take some simple steps to give yourself a much better chance of your clubs arriving on time and intact.
1. Travel Bag: here you have a choice – either a hard or soft sided bag. I've owned both and traveled with both, and you will not find a hard bag in my house. There's little question that a hard bag offers superior protection, so why wouldn't I recommend one? One BIG reason – they are a colossal headache once you arrive. The qualities which make them great from a club protection standpoint make them a royal pain when you arrive – namely, you are stuck with an enormous piece of molded plastic.
Instead, I recommend you buy a high quality soft sided bag. Don't skimp. There's no question that Club Glove makes the highest quality travel bags available. I purchased their "Burst Proof" model (with wheels – don't even think about the model w/o wheels) four years ago, and it is absolutely bulletproof. Their "Last Bag" is used by many, many PGA Tour pros. They don't come cheap – the Burst Proof is $189, and the Last Bag is $279. Can you buy a cheap travel bag for $50? Absolutely, and if you want to put $1000+ worth of equipment in a flimsy bag with crappy zippers, be my guest. Don't skimp.
2. OK, I'm not a shill for Club Glove, honest, but there's another item from their catalog which you ought to consider. (Don't worry; there's a less costly alternative – keep reading.) It's called the Stiff Arm – it's a height-adjustable crutch that protects your driver should the entire bag be dropped on its head. Here's an image from the Club Glove site – as you can see in the illustration on the right, you simply extend the Stiff Arm to a height of 1-2″ longer than your driver:
The Stiff Arm is $25. If you want a less expensive option, find a 1″ or 1-1/4″ diameter wooden dowel at a lumber center and have it cut to an inch or two longer than your driver and use it in the same manner as the Club Glove product.
3. A few years ago I traveled to Orlando play golf with my brother for a few days. I arrived late at night, went to baggage claim, no clubs. Checked with the baggage office and they couldn't find my bag in their system. Sigh. Next morning, checked with the hotel's bellman, no clubs; drove to the airport, no clubs. Grrrr…. went to the course, rented clubs & bought: shoes, balls, tees, glove, etc. We were midway through the back nine and my cell phone rang – it was a very helpful person from Delta in Minneapolis. Apparently the airline's printed baggage routing tag (you know, the paper one that's nearly impossible to rip off) had somehow come off the bag. How did he have my cell number? I'd attached two luggage tags – the type which holds your business card – to the travel bag, and my cell number is listed on my card. The type I've been using is laminated, as we have a small laminator in our office: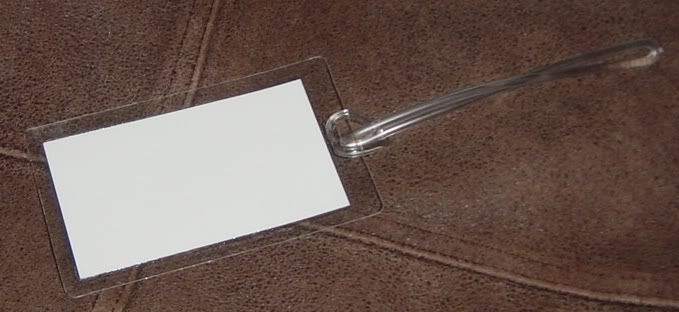 Similar luggage tags into which you can insert a business card are readily available on the internet – just Google "luggage tags." I put two of these on my travel bag, and a third on my golf bag itself, should both of the other tags somehow come off. If your clubs do get lost, save all your receipts for the items you rent and buy – the airline will reimburse you.
4. Pack extra clothing – a rain suit, for instance – or extra towels around the heads of your clubs for extra cushioning and protection. Make sure you remove any valuables from your bag. If you use a rangefinder, pack it in your carry on. If going on a golf vacation, consider packing an extra pair a shoes, couple of sleeves of balls, and a glove in your carry on, should the worst happen.
5. If at all possible, fly direct. If that's not possible, aim for layovers of at least 75 minutes to allow ample time for your luggage to make it to your connecting flight.
6. Before you pack your clubs into your travel bag, take a few digital pictures so you have a record of what's in your bag. (BTW, save your receipts when you purchase clubs!) Check with your insurance company and purchase a rider to your policy, if you're so inclined. It should only cost $30 to $40 per year. If you travel a couple of times a year with your clubs, it'd be worth it. The airlines will be liable for damage to your clubs ONLY if you use a hard sided case.
This is from the American Airlines website, and it's typical of the major airlines:
Liability

AA/American Eagle/AmericanConnection® carrier are not liable for any damage to sports items not presented in a hard-sided case. If the outside of the hard-sided case does not have visible damage, AA/American Eagle/AmericanConnection® carrier are not liable for any damage to the sports item inside the case.
Sports cases designed for specific items such as golf bags, boot bags, and bike cases are intended to carry only that sports item.
I know, I know, some of you are thinking you should get a hard sided travel case. Believe me, a high quality soft sided case as described above will offer outstanding protection and can be folded up when you arrive.

7. When you arrive at your destination, go directly to the baggage office and ask where clubs will be brought – whether to the regular carousel or an oversized baggage area – or ask a skycap. And then station yourself there to wait for your clubs.
8. There's a final option – if you're going on a golf vacation for a week or so, consider shipping your clubs to a friend nearby or to your hotel. There are specialized services available that will do this for you (like Golf Bag Shipping.com) but they aren't inexpensive. Also, keep in mind that shipping your clubs to a hotel and then successfully retrieving them can be a bit tricky – you are asking the hotel to do something that's a bit out of the ordinary. An alternative is to ship them yourself, using one of the large package delivery companies. Check out this article at Golf Vacation Insider on the ins and outs of shipping clubs.
That's about it. If you have comments, please make them below, and as always, hit 'em straight!
Similar Posts: