For years I've used a simple but effective 3 part approach for writing business cases:
a) Where are we? (situational analysis – the market, trends, competitive analysis, etc.)
b) Where are we going? (opportunities, objectives & strategy)
c) How are we going to get there? (actions, plans & controls)
Typically each section of a plan, depending upon the complexity of the product or program, would consist of 20-40 slides in a PowerPoint presentation.
Unfortunately, we're all overloaded in our personal and professional lives, and conveying your ideas in a precise yet compelling manner is essential. As a result, over the last several years I've taken several key business and strategic planning documents and compressed them into the briefest possible formats – a one page strategic plan document, for instance.
In this case, I've taken the essential elements of a simple business plan and captured them in a 3 page format. In the following example, a simple case is laid out for the fictional Widget Corporation (clever, huh??) The "Where are we?" page captures market size & share, trends, a quick competitive matrix, sales and OP over time, product mix, a technology assessment, & distribution trends. It ends with a brief summary of the key points: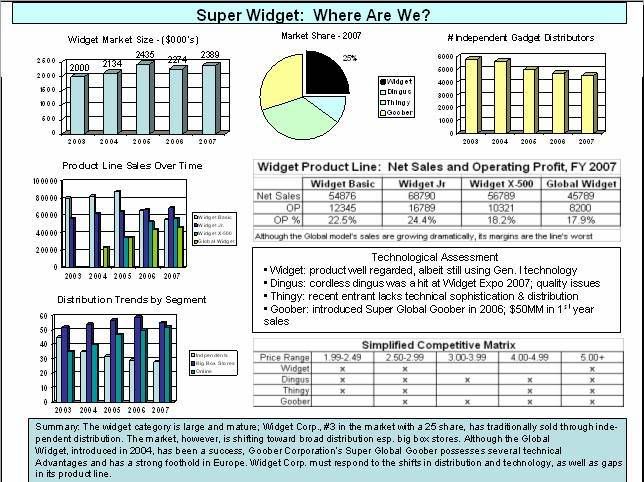 The second section, "Where are we going?" includes a SWOT analysis, VOC summary, a review of the critical issues, product or program details, volume estimate, financial anlysis highlights, and a strategy statement:
Finally, the "Where are we going?" section covers the program objectives, launch plan, positioning, pricing, anticipated competitive response, timeline, and controls which will be employed during the process. As with the other pages, it concludes with a brief summary statement:
If you wish, you can add an Executive Summary at the beginning of the plan. A final section, again should you need it, would be an Appendix with detailed financials and other data as you see fit. Much of what would be necessary is dependent upon your organization and its management & culture. The basic presentation is 3 slides.
The format itself is quite flexible, and what's shown here can be adjusted to suit your needs – this is intended as simply a general guideline.
If you'd like a copy of this 3 page format in PowerPoint, simply click on the "Downloads" page link at the top of this page and click on the "Simple PowerPoint Business Plan Format" file.  It will just take a few moments and is completely FREE.
If you're launching a new CPG product with a $20 million ad campaign, this approach won't work for you. For smaller programs and products, however, this is a great way to force yourself to distill the your case down to the most concise of presentations. If you can't make your case concisely, you may have a problem. Using this simplified format may very well be much more compelling than a 20, 40 or 80+ slide presentation. Good luck – comments are always welcome!
Similar Posts: