Zen Habits featured an article today entitled "20 Money Hacks: Tips & Tricks to Improve Your Finances." Hack # 10 features a spreadsheet the author uses to track his bank accounts, and comments that it does everything he used to do with MS Money.
Here's a variation on that theme: if you get to the end of each month and have no idea where your money's gone, you might want to consider the Excel workbook I created for tracking daily expenses. There's a spreadsheet for each month, and expenses are totaled and graphed on a 2008 summary page.
You start at the summary page, and enter your categories in Column A; the entries shown below are just examples:
Once you do that, those categories will be transferred to 12 spreadsheets, one for each month:


From that point onward, simply enter your daily expenses into the spreadsheet (there are 31 columns, for up to 31 days in a month.) To keep track of your expenses, print a hard copy for each week, and just write in your spending at the end of each day; I usually enter the figures into the spreadsheet every few days. Note that I have "His" and "Hers" columns, so that if you and your SO spend in the same category on a particular day, you'll be able to keep the entries neat. If you have certain charges which are automatically debited from your bank account or charged to your credit card(s) you'll need to enter those expenses as they occur – OR simply enter them on all 12 spreadsheets all at once. Here's what one spreadsheet looks like after I've made a few (made up) expenses: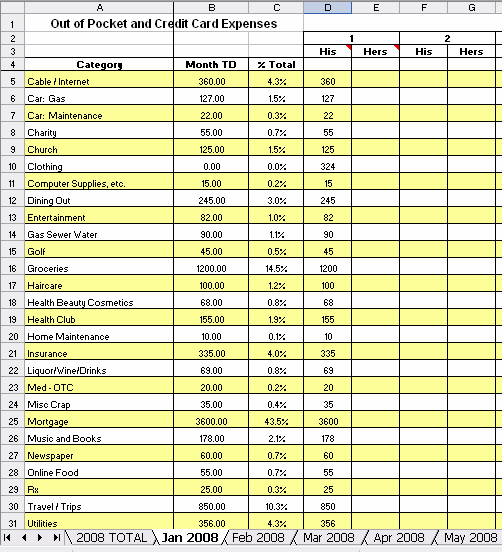 One of the nifty features is that your expenses are automatically totaled on the "2008 TOTAL" sheet and graphed. Here's an example: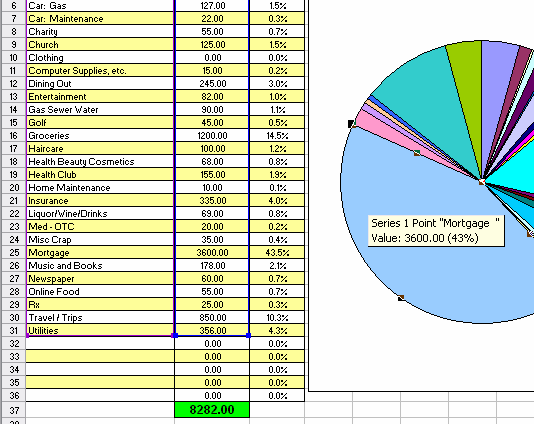 A side benefit to tracking every dollar you spend on a daily basis is that the discipline involved in doing this will cause you to cast a more critical eye on your spending. You'll find yourself thinking twice before making a (possibly frivolous) purchase.
The entire workbook is available for free – just click on the "Downloads" link at the top of this page and download the "2008 Expense Tracking" file – it'll only take a few moments.
Good luck in tracking and adding some discipline to your spending; as always, comments are welcome!
Similar Posts: